Bubby's Grubby's
Bubby's Grubby's
Our candles are more then triple scented, made with the finest wax, lead free wicks and uncut oils . Each are handmade, no two will ever be the same.
if you wanna join our team, please put my name Debbie Baker #77 in the fax box, thank you
These little prim cuties are 4 oz. each. They have a black lid, homespun tie, and a rusty star. These little guys back alot of scent! These would make great gifts. Each jar may vary.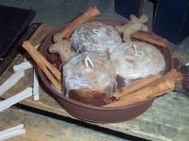 Each of my Larger Hand rolled Cinnamon Buns are about the size of an actual cinnamon bun or a cupcake.
These are my new candle lights. I have replaced these with my Tall Grubby Lights. These are alot bigger. They are approx.6" tall and 4" wide, that is before they are grubbied. Get these in any one of my candle scents. Sit these on a candle tin with rosehips and fixens. These make a great nite-lite.Unlike our candles, these are primarily for looks not for a good scent throw. They have a white cord with an on/off switch. Each will come with a silicone dipped bulb. Great gift idea!