Catalog
Creative ScentSations
All of our products are hand made with the finest ingredients. We use
the maximum amount of fragrance oils allowed so you receive a highly
scented creation. Each creation is individually hand crafted so no
two are ever exactly alike.

Our gourmet bakery candles look and smell like they just came out of
the oven. Each piece of fruit is individually scented so you get a
highly scented and beautiful realistic looking product..

We also offer many alternatives to burning candles such as our smelly
jellies, wax dipped scented air fresheners, electric & battery
tealight candles, fresh made potpourri, fixins, tarts, as well as
many decorative scented products.

Inquire about our rep program to receive discounts & earn free
merchandise - no start up fees & no minimun sales required

Look under Specials for Special Savings & Sample/Rep Packages at
special discounts.

check out my link below & don't forget to put my #id 519 Debbie Baker
in the fax
box,thanks!
If you love the smell of fresh baked apple pies you have to get this one. Each apple is individually scented for maximum scent throw. This is topped with a strudel & spice pie crust. Gel candles are very fragrant & long burning.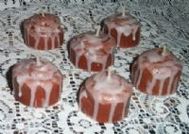 This is the largest electric grubby candle we carry. These are wonderful alternatives to burning candles for the warmth from the silicone bulbs emits the scent of the wax.
These cinnamon bun tealights are scented in cinnamon buns & topped with a caramel icing. You will receive a pkg of 6.
Bakery Scents & Spice Scents Grandmas Kitchen - Banana Nut Bread - Chocolate Cake - Apple Butter - Butterscotch - Banana Split - Red Hot Cinnamon - Home For The Holidays- Vanilla- Hot Apple Pie- Cinnamon - Pumpkin Pie- Pumpkin & Vanilla- Gingerbread- Oatmeal Honey- Chestnuts & Brown Sugar - Cinnamon Crunch - Maple - Strawberry Shortcake - Sugar Cookies - Vanilla Nutmeg
Fruity Scents Watermelon - Strawberry - Cantaloupe - Grape - Cucumber - Cucumber Melon - Mulberry - Fruit Blast - Pear - Peach - Sex On The Beach - Blueberry - Cherry - Mango & Papaya- Pink Grapefruit- Blackberry Sage - Applejack- Apple Butter- Citrus Sorbet- Papaya Lime - Blackberry - Black Cherry - Candied Cranberries - Dreamsicle - Pomegrante - Sweet Pineapple - Monkey Farts
Florals & Earthy Patchouli - Lavender - Rose - Plumeria- Sandalwood- Woodland Trail- Rosewood Henna - Cinnamon & Sandalwood - Gardenia - Homeysuckle - Lilac - Poinsettia - Sweet Pea
Clean & Fresh Scents Sandalwood - Baby Powder - Downy- Baby Fresh - Essenza Calming Blend - Leather
Drinks-Candy-Misc Pink Lemonade - Licorice - Bubblegum - Brandy - Vanilla Anise - Strawberry Daquiri Black Magic - White Tea & Ginger- Sex On The Beach- Coffee Caramel Cream - Cappuccine Brulee - Vanilla Latee - Coumbian Coffee -