Maddy Ray's
Maddy Ray's
We offer high quality products for a reasonable budget! We have items for every taste and for everyone!
Our Representative Program is now open!
if you want to join our team, please put my name,Debbie Baker in the fax box, Thank you!
JOIN - Our Affiliate Program
A hot chili is the handle for these three bowls designed for your most tongue-tingling dipping sauces.
Microwave and dishwasher safe. Earthenware. 9 1/4" diameter x 4 3/4" high.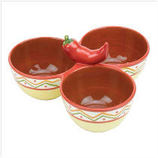 It's a lucky duckie who finds a friend like you! 100% plush. Made of durable polyester fiber and filled with hypo-allergenic bean pellets. Not recommended for children under 3.